Well, while I was was waiting for invader to come and chat today, TheEmeraldWoman, a friend of mine, came on and wanted to chat with me. Unfortunatly, Invader was not there for that nice little chat, but, I'd like you guys to stop by and welcome her! She is a great friend of mine, and deserves some respect!
BTW, here's a picture if you don't believe me: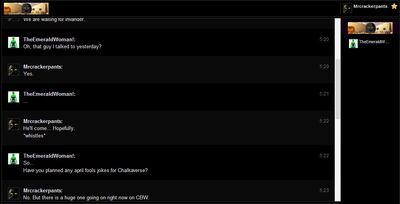 Anyways, stop bye and say hi! She would appreciate it!
Ad blocker interference detected!
Wikia is a free-to-use site that makes money from advertising. We have a modified experience for viewers using ad blockers

Wikia is not accessible if you've made further modifications. Remove the custom ad blocker rule(s) and the page will load as expected.